Salvajor
Salvajor manufactures dish scrapping solutions for any size business, including: disposers and disposer controls; disposer based scrapping systems; and food waste Collector systems. Salvajor products are specifically designed to save water/energy and to provide a low maintenance, sanitary alternative to other methods of food waste disposal.
FOOD WASTE DISPOSERS
Salvajor food waste disposers are a simple, efficient and economical way to dispose of food waste. Best suited for a typical restaurant with a single door dishmachine, today's Salvajor disposers are the results of a half century of innovation. Every Salvajor disposer benefits from exclusive features.
DISPOSER SYSTEMS
Salvajor offers unique solutions when a traditional pre-rinse or fresh water trough simply can't keep up. The typical conveyor dish machine is rated at 210-230 racks per hour, while the average operator using a pre-rinse hose can scrap 25-30 racks per hour. Salvajor solves this problem by offering a full line of advanced scrapping solutions. The traditional pre-rinse hose or fresh water trough limits scrapping capacity, while the ScrapMaster and TroughVeyor systems increase scrapping speed by utilizing a powerful plume of water to flush food waste from soiled dishes and cookware. The food waste is then separated into the disposer while the water is returned to the tank reservoir. All models recirculate a high volume of water, but consume the same amount of water as a standard commercial disposer. Since the operator has both hands free to work, scrapping efficiency is significantly improved.
COLLECTOR SYSTEMS
Widely accepted in areas that restrict the use of disposers. Salvajor Collector Systems are unique in output and simplicity. Rather than grinding food waste or collecting every scrap of garbage in a trash receptacle, Salvajor Collectors wash soluble food waste harmlessly through the sewer while holding fibrous and non-soluble food waste in the scrap basket. Salvajor Collectors recirculate water at a rate of 30 G.P.M. (Scrap and Pot/Pan Collector) to 70 G.P.M. (Trough Collector) resulting in a savings of thousands of dollars in wasted water each year. Since the operator has both hands free to work, scrapping speed is often doubled or sometimes even tripled. All three models are safe for use with grease interceptors or septic systems.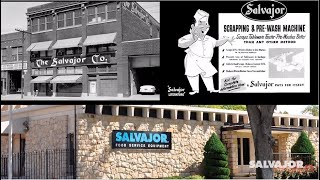 SALVAJOR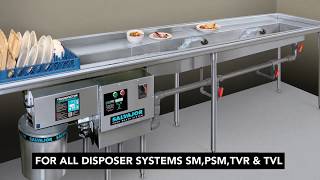 SALVAJOR Disposer System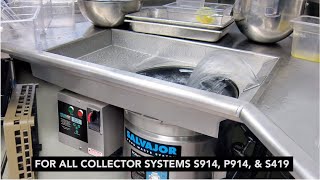 SALVAJOR Collector System